Title: Orgasmatron (Motörhead Cover)
Artist: Sepultura
30 plays
Sepultura | Orgasmatron (Motörhead Cover)
(via adenoviridae)
Title: C.I.U. (Criminals In Uniform)
Artist: Sepultura
0 plays
Sepultura - C.I.U (Criminals in Uniform)
Nuclear Assault - Enter Darkness
Title: I Saw Your Mommy
Artist: Suicidal Tendencies
150 plays
What are you trying to say, I'm crazy?
When I went to your schools, I went to your churches
I went to your institutional learning facilities?
So how can you say I'm crazy?
Title: Subliminal
Artist: Suicidal Tendencies
548 plays
Suicidal Tendencies - Subliminal

Flashing pictures on my screen
Shown too quickly to be seen
Does not register in my conscious mind
Propaganda of another kind
They're Fucking with me subliminally
They're Fucking with me subliminally

Danger - Nightmare
Doomsday - Nightmare
Murder - Nightmare
Nightmare, Nightmare

Watching T.V. I start to cry
For no reason I don't know why
Could it be from messages on my TV
Which I'm getting subliminally?

Mind control the easiest way
Sponsored by the C.I.A.
It's a weapon you cannot see
It's propaganda subliminally
Before you go taking a walk in my world, you better take a look at the real world cause this ain't no Mister Roger's Neighborhood. Can you say "feel like shit"? Yea maybe sometimes I do feel like shit. I ain't happy 'bout it, but I'd rather feel like shit than be full of shit. And if I offended you, oh I'm sorry, but maybe you need to be offended. But here's my apology and one more thing…fuck you!
Muir does have Latino roots (and non Latino roots).
His band Suicidal Tendencies were HUGE around the East LA section which is mostly Latino and he had multiple members of his band who are Latinos.
Henry Rollins said in one of his books that he went to an outdoor Suicidal show in East LA and it scared him to death. He said that the crowd was mostly comprised of Latino gang members who were very violent, but loved the band. It takes something pretty heavy to freak out Rollins! That said, Mike Muir must have been "cholo" enough to not get beat up/killed for being a poser if that was his audience!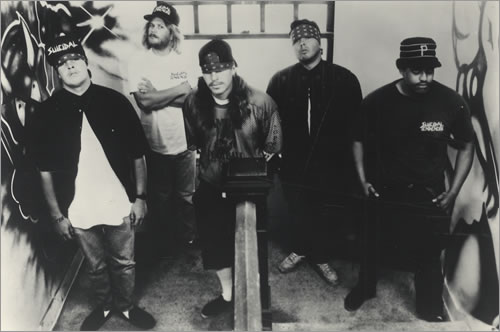 (via
amerikkkan-stories
)
(via amerikkkan-stories)